Why use sensory activities for autism?
According to a leading autism charity, The National Autistic Society, around 700,000 people are on the autism spectrum, so it's more important than ever to prioritize understanding autism. Autism and Asperger's affects three main areas of a person's life:
Social interaction
Communication
Imagination
Autistic individuals experience problems with all types of sensory stimulation, which can leave them feeling anxious on a daily basis. If you think someone you know or your own child might have autism, please read our blog post on how to recognize autism.
To work towards reducing that feeling of anxiety, it's important to try to develop their social skills through various sensory activities with specialized sensory equipment. We pride ourselves on our multisensory equipment expertise, so give these ten sensory activities for a child with autism a try. We think they'll help you successfully engage and stimulate their minds.
Sensory Activities for Autism
1. Dance Party!
One of our fun autism friendly activities is a dance party as it helps to engage the individual. You can create a dance party with a projector and music system in a sensory room at school or at home. Alternatively, if you want to be spontaneous while travelling, you can use a dark room and a portable strobe light with music from your phone.
Dance parties can help individuals with autism learn how to listen to rhythm, count, and develop their physical coordination by playing their favorite music and moving! It's also a great way to let off steam or channel frustration if the individual is having a difficult day. This is an activity that works with just a supervisor and the individual, or as a group activity depending on the individuals involved and if they respond better in solitude or with others.
2. Use Bubble Tubes in Sensory Activities for Autism

Bubble tubes are more than just decorative! From their gentle vibrations to bubbling sounds, bubbles are extremely calming and soothing for those with autism and there are a number of ways to involve bubbles in activities that will engage and stimulate the mind.
Fitting a sensory room with bubble tubes will grab attention and create a colorful environment that aids visual development and communication skills. Other ways of interacting users with bubbles could include asking them to count as many bubbles as they can aloud, or seeing if they can follow them with their fingers as they rise to improve their tactile development.
Other autism friendly activities involving bubble tubes include making use of IRiS software which allows the user to control the colors of the bubble tube using a tablet or phone. The supervisor could control the colors of the bubble tube with a tablet while the child has the challenge of stepping on the section of a balance beam to match the color in the tube.  Alternatively, the supervisor can call out a color and the child must step on the correct color on an IRiS Balance Beam which will change the color of the light in the bubble tube (when paired with an IRiS Bubble Tube). This is a great way to develop an understanding of cause and effect as well as hand-eye coordination.
Again, this activity could be used in a group setting depending on how well the members of the group can take turns. If this isn't an option, it also works well with just one individual.
Although we would recommend using a bubble tube in a sensory room to benefit from the general environment, you can always use a Portable LED Bubble Tube if you are traveling or somewhere that doesn't have a sensory room.
3. Artsy Sensory Activities for Autism
Sometimes it's good to be a little messy! Finger painting is extremely fun for little hands and has a variety of benefits for those with autism.
Playing with paint allows individuals to experience and explore a variety of textures, tantalizing their senses through touch. Since autism often affects the way a person processes sensory information, having children play with paints is a way of getting them used to tactile input. This will help them become more comfortable with processing sensory information in everyday life. This is also a good opportunity to engage in discussion about colors and mixing them to make new colors. It also can help children with autism feel more in control.
While this might be a little messy to do spontaneously, it can be enjoyed outdoors, or on a well-protected table or floor.
4. Playing in a Ball Pool
Playing in a ball pool is a great sensory activity for encouraging hand-eye coordination. For those with autism, ball pools allow them to enjoy themselves and relax while benefiting from the sensory input of the pool.
There are various visual, tactile, and auditory benefits of this activity, from the brightly colored balls, to the way the balls massage the entire body, and the way the balls sound as children move around the pool. It's a fun activity that can really help children with autism experience sensory stimulation in an enjoyable way. Ball pools can be installed in sensory rooms at school, at the hospital, at home, and many other places!
5. Beanbag Chairs for Autism-friendly Activities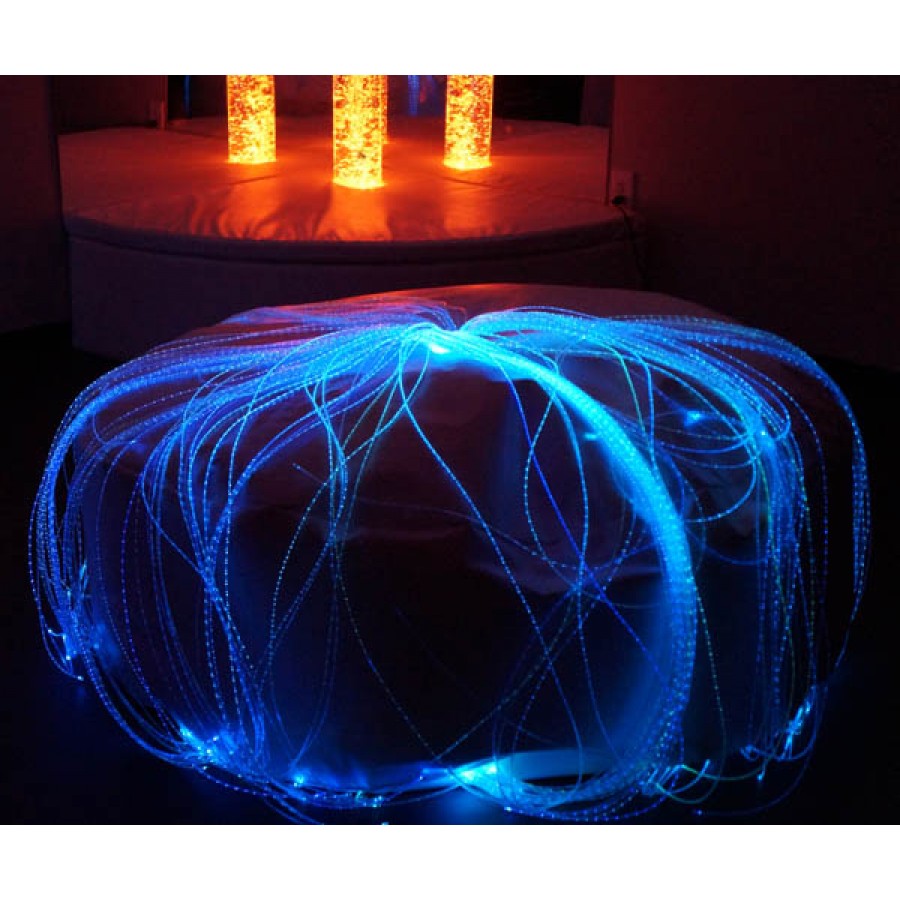 Heightening levels of comfort is extremely important for individuals with autism. The pressure of a beanbag chair as an individual sits down and is engulfed by it is great for calming the nervous system.
These soothing inputs are also known to help those with autism to concentrate better, helping to improve their communication skills. Activities can be incorporated while an individual is sitting in a beanbag chair, such as reading or storytelling. The great thing about beanbags is that they can be used anywhere and don't require any special equipment. Individuals can enjoy them independently or in small groups if appropriate for the personalities in the group.
6. Musical Sensory Activities for Autism
Sensory interactive wall panels are great for stimulating an individual's sense of rhythm and sound. Help them develop these skills by engaging them in a fun activity; create a sound sequence for them to copy back to you, and allow them to enjoy themselves while doing so!
This is a good activity for schools but can also be enjoyed at home with the correct equipment. Typically this game works best one-to-one as there is a fair amount to concentrate on and the presence of others can be distracting. But as with any activity, this depends on the individual and their needs.
7. Guessing Game
Tactile stimulation is extremely beneficial to those with autism. Tactile and dexterity products allow individuals to interact with things in their environment, helping them to become more comfortable and familiar with the sensory information that comes in a daily basis.
Collect a variety of objects that feel different. Present them one at a time to the child while they are blindfolded, and see if they can guess what each object is. Objects could include bean bags, soft balls, and cloths. There are a variety of other tactile and dexterity products that are a little larger but beneficial for those with autism to interact with. This is a game that can be enjoyed in a group that is good at taking turns or as a one-to-one activity. Another benefit of this activity is that it can be enjoyed almost anywhere as long as it is prepared in advance!
8. Puppet Show
Puppet shows are a simple but extremely effective activity for those with autism to participate in. This can be as simple as putting socks onto your hands and acting out a puppet show – the role-play helps teach emotions and improve social skills like empathy and self-expression.
You can get even more creative with this by using a light projector, or something as simple as a flashlight – create different characters by creating shadows on the wall and help those with autism create their own. This is another activity that could work in a small group provided there is sufficient structure and some rules in place to keep the activity productive. Why not keep a bag of puppets or sock puppets in your car or bag to use spontaneously when a distraction or fun activity is needed?
9. Floor-based Sensory Activities for Autism
A portable interactive floor provides a great game for children with autism to play. The projections respond to the body's movement and encourage a unique sensory experience, incorporating physical and mental stimulation that is extremely beneficial to those with autism.
This activity also helps to improve color recognition, hand-eye coordination, social interaction, and more! Small groups of two can enjoy this game together or it can also be a solitary activity.
10. Autism-friendly Activities Involving Aromatherapy
It has been proven that scents can have a positive effect on a person's mood by reducing stress and improving self-confidence and physical and mental performance. Create a relaxing environment for those with autism by introducing aromatherapy to a room. The relaxed space will reduce levels of anxiousness and help the individual engage their mind without distraction. Lavender is a great scent to incorporate as it helps to induce a calm and relaxing environment.
Ultimately, engaging someone with autism can be a challenging but rewarding experience. It is important to continue to help them learn how to connect and communicate with other people in the world, so they can feel less anxious and improve their overall development. These sensory activities for autism are fun but also extremely beneficial and work well when used in combination with multisensory rooms. If you need any further guidance or recommendations on sensory equipment for individuals with autism, contact us to find out more and read our blog post on calming strategies for autism.