Specialist Sensory Rooms
Sensory rooms are an excellent way to improve a person's cognition, mood, and general wellbeing. They can be adapted to suit different abilities and the people that use them, helping the caregiver provide the best experience for each individual.
One of the main advantages of a sensory room is its versatile nature. Different sensory equipment can be used depending on the user and the environment, making the room adaptable for a range of situations and needs. As a result, sensory rooms have become a popular addition to public, commercial, and residential buildings.
Public and Care Sectors
Care Homes, Nursing Homes, and Hospices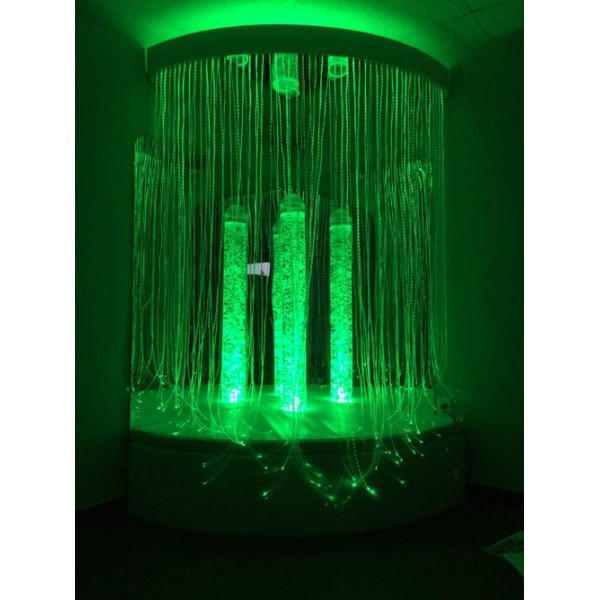 For residents with dementia in care homes, nursing homes, and hospices, creating fun and appropriate activities can be particularly challenging. Patients in the later stages of dementia may become agitated, anxious or depressed due to a lack of sensory stimulation.
A multisensory environment can provide a safe and engaging space for residents to explore. A combination of tactile and visual effects can be achieved with stunning equipment like our calming sensory cocoon, for an experience that is immersive and completely age-appropriate.
Hospitals, Psychiatric Facilities, and Health Care Centers
Medical environments can be incredibly stressful for patients, especially for those with a sensory disorder like autism or Alzheimer's disease. They can be confusing and unfamiliar, and this often results in panic and anxiety.
Sensory equipment such as the IRiS Sensory Roamer can be used to orient and calm. It can distract from the patient's situation and redirect unwanted behaviors in a positive way. Portable designs can easily be transferred between wards to benefit multiple patients.
Sensory Rooms in Schools
Sensory rooms are a fantastic way to make your school more inclusive. Especially useful for children with autism, a selection of calming and stimulating equipment can be used to improve students' concentration and encourage interaction for a positive learning experience.
Creating sensory rooms for autism (and other needs) at school can provide a safe, calming space for children to develop skills and improve their focus. It can include a variety of textures, noises, and visuals for maximum impact.
A soft play room can also be a useful addition to a school, benefiting individuals with sensory disorders in particular. Soft play engages users in the environment and allows them to react to different stimuli. It can offer users the opportunity to play and experiment while still feeling safe and comfortable. Learn more about what to include in our blog post about creating a sensory soft play room.
Sensory Rooms in Libraries
Investing in a sensory room for your library can be hugely beneficial for people with special needs. It can destress a person who has become agitated, and create positive learning experiences through play. Parents can also bring their children to play together and use the room during the day or after work.
Storytime sessions can be enhanced as children will feel completely immersed in their environment. Projector wheels can be used for theming, and bubble tubes and fiber optics will create gentle lighting for added ambience. Soft floor padding and seating, like a fiber optic softie, can also make users feel safe and comfortable throughout the session.
Sensory Solutions for Airports
An airport is a stressful and busy environment that is unpleasant for many individuals with sensory issues. Being in a sensory environment can calm, helping to block out other sensory input that may be distracting and overwhelming. Although relatively new to airports, sensory rooms have already been introduced in Myrtle Beach, South Carolina, and Atlanta. Other countries are also becoming aware of the benefits, with Shannon airport opening the first European sensory room to care for children and adults with neurodevelopmental challenges. Their room features color-changing lights and wavy walls, specially designed to stimulate the senses.
Home Sensory Environments
Sensory Bathrooms
For individuals with autism or dementia, bathing can sometimes be a stressful and traumatic experience. Sensory bathrooms aim to change this, encouraging rest and relaxation for a more positive experience. Including color-changing lights and soft music at bath time can be very beneficial. Aromatherapy can also be incorporated for a multisensory effect, using scents such as lavender to soothe.
Sensory Solutions for Bedrooms
A sensory bedroom should be a safe and comfortable space. When designed correctly, it will improve sleeping patterns for better mood, focus, and well-being.
When designing a sensory bedroom, avoid bright colors like reds and yellows. These can overstimulate, causing anxiety and impacting sleeping patterns. Instead, choose soft, calming colors like pastel blues and purples. Keep clutter to a minimum, and avoid busy wall designs.
A bedroom can become a fully immersive multisensory environment, or it can have a designated section for your sensory equipment. We offer a vast range of sensory bedroom products, and our expert team can help you design your room to achieve the best results.
If you would like to learn more about our sensory room designs and equipment, please get in touch by calling 1-800-882-4045, or filling out our contact form today!