Sensory soft play is a great way to help develop a range of areas such as social skills and creativity by fostering a safe and secure environment for users to relax and express themselves in new ways. These are just some of the many benefits of soft play for both adults and children! To help you navigate your way around soft play options, we have chosen five top pieces of sensory soft play equipment:
LED Fiber Optic Softie
The LED Fiber Optic Softie is a larger than life bean bag floor cushion for users to sit or sprawl on while they interact with the integrated fiber optic strands. Handling, watching, and touching the fiber optics can create a soothing and peaceful feeling while also captivating attention and helping users practice concentration skills. The Sensory Softie comes in three styles:
Superactive
The 'superactive' nature of the LED Fiber Optic Softie gives users control over the color of the fiber optics with a wireless controller. A great way to develop color recognition, cause and effect, and fine motor skills among others!
IRiS
For even more control, this model of the LED Fiber Optic Softie, like the Superactive model, can be either calming or stimulating, and depending on which IRiS Talker you pair to it can be used to work on a wide array of skills. The IRiS system allows users to choose from a range of controllers to find one that is best suited to their needs and abilities.
Calming
During stressful or frustrating situations, it can help to leave the environment and find somewhere calming to take a timeout. This is exactly what the Calming LED Fiber Optic Softie is designed for. For a peaceful experience, the fiber optics on this Softie slowly change color automatically. This is visually relaxing and comfortable for a calming change of environment.
Bubble Tube Corner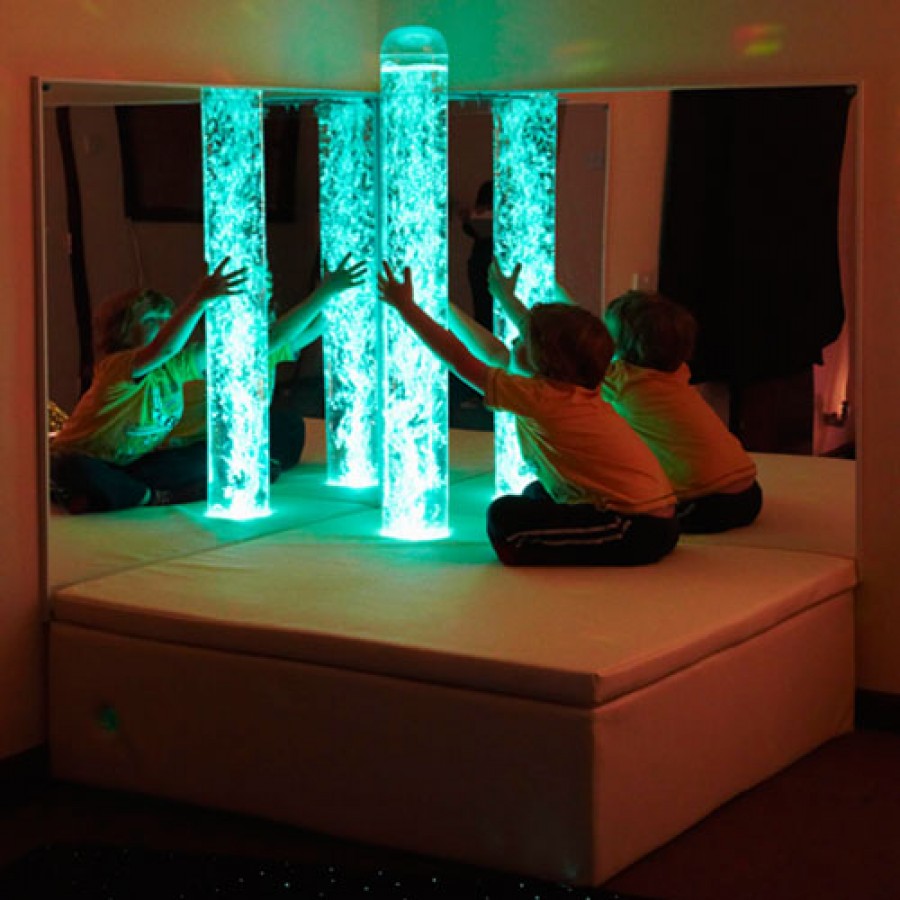 A Bubble Tube Corner enhances a sensory room by creating a safe, calming and interactive corner. If you don't have space for a full sensory room, the Portable LED Bubble Tube Corner is an excellent alternative as it can be brought to the user wherever they are!
The comfort of the cushioned platform combined with the mesmerizing bubble tube is especially beneficial for users with sensory processing difficulties, autism, or anxiety. Acrylic mirrors create the feeling of being surrounded by bubble tubes for extra relaxation or interaction. You can familiarize yourself with the sensory benefits of a bubble tube in our previous blog post.
Choose from a calming experience where the bubble tube slowly progresses through a whole rainbow of colors or a Superactive model where the user can control up to eight colors from a wireless controller. Alternatively, the non-portable Interactive LED Bubble Tube Corner can be controlled by pressing colored spots on the platform to change the color of the bubble tube and stop and start the bubbles. The benefits of the bubble tube corner include a sensory workout, a de-escalation experience, and motor skill development.
Balance Beam
For a more physical piece of soft play equipment, look no further than a soft balance beam for a safe way to exercise motor skills. The IRiS Balance Beam offers an extra rewarding and interactive experience when paired with one or more IRiS Listeners. When the user stands on a colored section of the IRiS Balance Beam, the IRiS Listener(s) changes color to match the section stood upon, encouraging users to keep going and continue using their balancing skills.
Discover the Balancing and Gross Motor Bundle here.
Interactive Ball Pool
An interactive ball pool creates a magical sense of wonder, relaxation, and engagement in anyone who uses it. Clear ball pool balls are illuminated by changing LED light and can be controlled by pressing any of the colored buttons on top of the soft walls. Choose from a medium or large size to suit your space and watch as the Interactive Ball Pool calms aggressive users and soothes triggered or anxious individuals.
IRiS Soundboard and Qube Bundle
A great tool for developing communication skills, hand-eye coordination, matching, and other skills, the IRiS Soundboard and Qube Bundle uses a range of sensory aids. This works when the user tosses, flips, or rotates the soft IRiS Qube, listening to auditory feedback and taking note of visual cues from the IRiS Soundboard. There are 64 pre-recorded sounds on the IRiS Soundboard but you can also record your own custom sounds.
We hope this list gives you a better understanding of some of the sensory options to start with when integrating soft play equipment into your sensory room. If you would like help creating a soft play sensory room please read our blog post to help you begin!