With the school year coming to an end, investing in sensory equipment for schools is an excellent way to make learning facilities more inclusive for years to come and put leftover budget dollars to good use.
We'll explain what multisensory solutions are, why it's so important that schools invest in them, and we'll also reveal our top 5 sensory solutions for schools.
What are Multisensory Solutions?
Sensory equipment for the classroom comes in many different forms, and each is designed to help with sensory processing. Sensory processing is simply how the body interprets inputs from the senses and how it responds to these inputs. For some people these processes can be distorted. This might be through too much or too little stimulation, an inability to fully process or interpret an experience, or a diagnosable sensory processing disorder (SPD).
Sensory solutions refer to the forms of technology and products specially designed to help encourage and regulate sensory processing. Sensory equipment often makes use of LEDs that softly change colors, sounds that are triggered by interaction with an interface or controller, and various surfaces to facilitate tactile learning and improve dexterity.
Why Sensory Rooms in Schools?
Sensory equipment helps children relax and concentrate. These are absolutely necessary in a school environment, where some children feel intense pressure and others act out or struggle to focus. For children with autism or Asperger's, sensory equipment can be very calming, can improve concentration, and can encourage interaction for a positive learning experience.
The need for sensory solutions is not limited to specialized schools, either. A study that can be found on the STAR Institute for SPD site has suggested that 1 in every 6 children experience sensory symptoms that can have an impact on everyday life. In a school of 500 students, that's approximately 83 students with these symptoms - a huge number.
Our Top 5 Sensory Solutions
While these are some of our top sensory solutions, we list them in no particular order. Each piece of sensory equipment is more appropriate for certain age ranges over others, but generally they can be used by anyone.
1. IRiS Soundboard and Qube Bundle

The IRiS Soundboard is popular with toddlers and pre-schoolers. Roll, flip, or toss the IRiS Qube for audible and visual feedback from the IRiS Soundboard. It comes loaded with 64 pre-recorded sounds, but you can also record your own sounds! For example, place a picture of a cow in the clear sleeve of the Qube and the same picture in one of the IRiS Soundboard frames and record the
word "Moo".  When you flip the Qube so the cow is face up, the picture of the cow on the soundboard lights up and "Moo" is played.  It's an effective way to work on communication skills, hand-eye coordination, matching, and other skills. And, since the Soundboard is IRiS-compatible, it can be paired with any other IRiS Talker (controller/switch), making it even more accessible!
2. Interactive LED Bubble Tube Corner
Bubble tubes are essential in sensory rooms and offer a few different modes of sensory stimulation. The Interactive LED Bubble Tube Corner is special because it comes with added features, including a soft, interactive, padded platform, and two mirrors. The padded platform allows children to climb up, sit around the bubble tube, and touch it, feeling its vibrations and controlling its color with the switches on the top pad. The mirrors give the effect of multiple tubes and enhance the visual experience.
3. Aurora LED Projector Bundle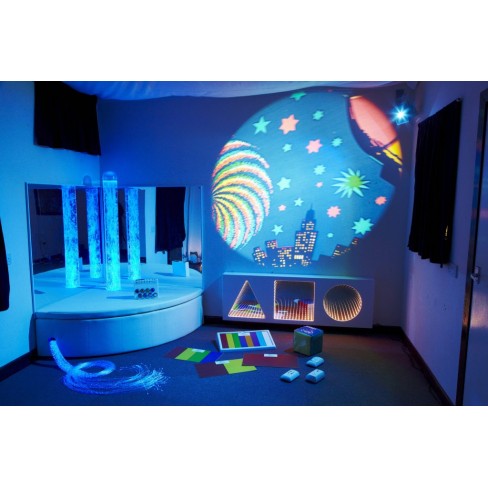 Like the bubble tube, the Aurora LED Projector (now manufactured in the USA) is an integral part of a sensory room. The projector casts images onto walls, ceilings, floors, or any other surface, bringing with it an array of colors, and patterns that operate on a continuous loop. The slow moving, repetitive structure of the visually rich projections can be very calming for autistic children and kids who need sensory perception support.
4. Sound Wall
The sound wall is great for kids in elementary school, or as a piece of equipment for special needs students.  Touch one of the 8 colorful hands on the wall to play interesting sounds and effects. The Sound Wall helps therapists and teachers work on cause-and-effect skills that are important in a child's development. There are over 128 sound effects and instruments available, which can be accessed by simply changing the card in the card reader.
This would be fantastic in an elementary school music class, or merely as a tool to promote relaxation and focus in any classroom.
5. Multisensory Room Packages
If you're looking to make a big impact at your school, then a complete multisensory room package is perfect for the job. These full sensory experiences wrapped up in neat and complete packages combine all the equipment you'll need to suit various abilities and sensory requirements. Multisensory rooms are designed to help with concentration and alertness in children and teens, especially those with autism, contributing to a happier and more productive school experience.
If you're planning to design your own multisensory space, make sure you decide in advance whether you want it to be a calming or alerting space and stay consistent. If you need a little guidance, check out this useful article on creating your own sensory room.
For additional advice and assistance in building your own multisensory room, contact our experienced team today at 1-800-882-4045.