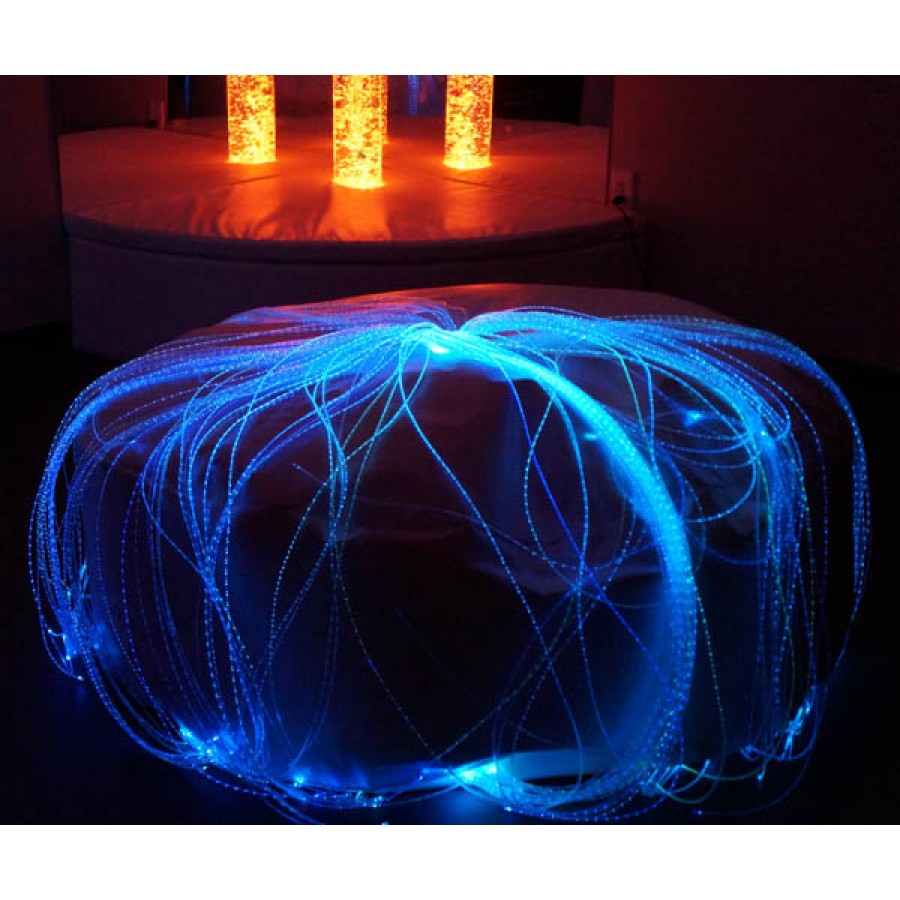 If you walk into a multisensory room, you will more than likely see some very attractive, color changing strands - sensory fiber optic strands. These spaghetti-like strands full of light can take on the form of a variety of presentations and are very useful for stimulating both vision and touch.  Sensory fiber optics can be used to entice individuals to interact with their sensory room environment. The benefits of fiber optic light for children help those with neuro differences such as Autism, ADHD, sensory integration dysfunction, learning differences, and Alzheimer's. And we know that fiber optics benefit sensory integration and sensory processing enabling those with sensory challenges to engage with their environment.
So What are The Benefits of Sensory Fiber Optics for Children?
Well, it may be the vivid colors, but we think it's a combination of the color and light. Fiber optics provide a unique experience. It's a chance to get close to light and actually touch and engage with it. Fiber optics provide a stimulating, yet safe, interaction without electricity or heat, offering a number of benefits of fiber optic light for children. The interaction is relaxing, bright, and colorful, and it encourages cause and effect education. From
young children to seniors, fiber optics can be placed not only in multisensory rooms, but in classrooms, office waiting rooms, sensory play areas, bedrooms, and living areas.
Let's take a look at some sensory fiber optics choices.
Fiber Optic Cascade Provides a Full Effect
A Fiber Optic Wall Cascade is like a curtain of light. The sheet of strands attaches to a wall with a swiveling mounting bracket (included) that provides access for those with restricted mobility (wheelchair users). A controller can be used to change the colors of the fiber optics making it interactive, and oh-so-pretty to see and feel. This may be a perfect selection to encourage touch along a wall and for upper body work.
Fiber Optic Jellyfish
Similar to the cascade, the Fiber Optic Jellyfish contains 150 tentacles of vibrant, glowing fiber optics that slowly change colors in a serene, calming pattern. And of course, since there is no electricity in them; it is safe to move among them, perhaps feeling like a fish yourself. Try standing right under the strands and looking up. Now that is something incredible. The attached mirror creates an endless sea of tentacles going on and on and on.
Fiber Optic Corner Shower
Why not wrap yourself in a soothing blanket of light with the Fiber Optic Corner Shower? Big enough to accommodate a wheelchair or standing frame, the Corner Shower produces a fun and attention-grabbing effect that appeals to people of all ages. The safe acrylic mirror on the underside of the shower gives the impression that the fiber optic strands continue into the ceiling, producing a really extraordinary effect. You can also add a corner shower to your existing bubble tube and corner platform to make a completely immersive Sensory Cocoon!  Sit next to the Bubble Tube, feel the vibrations, and stay safe and calm behind the curtain of light!
Fiber Optic Raincloud
Walk in the rain without getting wet with the Fiber Optic Raincloud! A perfect addition to any sensory room, the Fiber Optic Raincloud features 150 "raindrops" of vibrant, glowing fiber optics that slowly change colors in a serene, calming pattern. Because the fiber optics have no electricity in them (only light), it is safe to move among them. You can get up close to the light and feel the strands for a tactile experience.  Look up, and you will see yourself in the mirror that is mounted underneath, watching the rain come down from off in the distance! It creates a truly immersive experience.
Fiber Optic Carpet
This is a must for those who need dark and light contrast. A Fiber Optic Carpet uses tiny fiber optic lights to create the pattern of colored lights throughout the black carpet.  Fiber Optic Carpets are ultra-safe and are all handmade using the latest LED technology, so their lights are bright and their colors are vibrant. Fiber Optic Carpets can be calming or interactive depending on the model chosen.
Fiber Optic Sideglow Panel 
The Fiber Optic Sideglow Panel is a delight for your hands. Run your hand through the fiber optics on this panel to receive a pleasant tactile effect. The unit features numerous fiber optic strands that slowly change color producing a calming visual effect and encouraging focus and attention. An acrylic mirror gives the impression of even more strands!  The panel is lightweight & portable, but we recommend mounting it to a wall for stability.
Sensory fiber optics are super easy to set up, and they provide the hands-on lighting that everyone can enjoy! A perfect tool for calming and reducing anxiety, as well as alerting and engaging those who are withdrawn. Let us help you select the perfect fiber optic source for your school, office, business, assisted living facility, religious institution, or home.