Building a sensory room for your child can feel like a daunting task. The variety of products available can seem endless, and it's difficult to know which ones are best for your child. However, at Experia USA, we offer a range of sensory room packages for you to explore that are designed to suit all abilities. Let's take a look at the Calming Sensory Room Package in depth, to help take away some of the stress that parents and carers of children with special needs might experience when selecting equipment for a multisensory room.
What is a Calming Sensory Room Package?
A sensory room is a specially designed space that immerses individuals in a full sensory experience. Different sensory rooms have different elements in them to suit a wide range of abilities. Our Calming Sensory Room is designed for individuals who require calming or relaxation, and has a proven track record of providing an environment where children with autism and other sensory disorders can de-escalate.
What is included in a Calming Sensory Room Package?
60 " Calming LED Bubble Tube, Platform, Mirror Pair, and Accessories
A calming sensory bubble tube is a must in a sensory room! Also outfitted with a soft padded platform, the user can sit close to the color changing tube and watch the bubbles slowly rise. The tube engages the senses through visual changes and soothing vibrations that help calm and de-escalate. Bubble tubes are great tools for engaging autistic children as they help to reduce anxiety and aid organization. Some of the many benefits of a sensory room designed for those with autism is the encouragement of communication, speech, and socialization.
You have the choice to include swimming fish with your bubble tube to add an engaging visual tracking workout to the experience.
The bubble tube is often the piece of equipment that visitors to a Calming Sensory Room will engage with first, and even the most shy and reluctant users will gravitate towards the tube.
To further enhance the experience of the bubble tube, our mirror pair is also included in the package. Intended to be mounted behind the bubble tube and above the platform in the corner of the room, the mirrors multiply the effect by giving the impression that there are four bubble tubes in the room. The reflections intensify the light coming from the tube, creating an even more calming experience. As our mirrors are made of safe acrylic, they don't shatter and are safe for all users.
Additionally, the bubble tube bracket to secure the tube to the wall, bubble tube BCB fluid to keep the tube free of bacteria, and the bubble tube pump and hose kit used to make water changes easy are all included in the Calming Sensory Room Package! These are items you may not think to purchase, but are essential for proper maintenance of the equipment and will assure you get the most out of your sensory bubble tube.
For more information, visit our page dedicated to bubble tubes and accessories.
Fiber Optic Softie and Star Carpet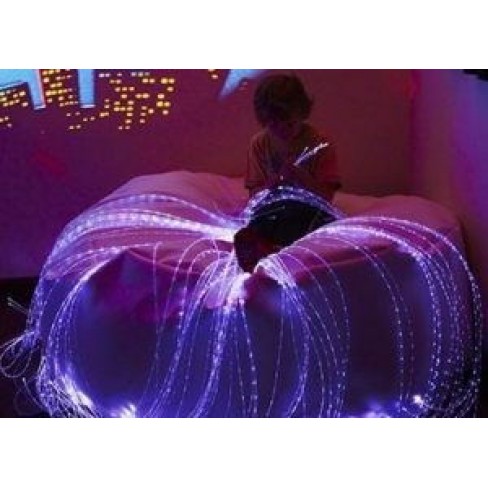 The Calming Sensory Room comes equipped with a calming fiber optic softie that we like to think of as fiber optic heaven. The softie (similar to a large bean bag chair) allows the user to sit comfortably on top and handle the fiber optic strands, watching them as they slowly change color. A fully immersive tactile experience. There is no electricity in the product, only light, so the user can get as close as they wish and handle the fibers, creating a calming and relaxing experience.
The fiber optic carpet also comes included in the package. This carpet uses tiny fiber optic lights to light up the black carpet and create a twinkling star effect. The carpet is a great place for users to lie down and watch as the tiny lights change, relax while watching the projector images, and listen to calming music.
Aurora Sensory Projector Bundle
The Aurora Projector Bundle is full of fun and interaction! It comes with the Aurora LED Projector, a Wheel Rotator, and 3 Effects Wheels (Under the Sea, Firework Bonanza, and a blank wheel that allows you to create your own effects).
The Aurora LED Projector makes it easy to cast images around the room that everyone will love to engage with and relax to. To suit each user's personality and needs, you can purchase more effects wheels, ranging from educational letters and shapes, to outer space and nature scenes.
Mirror Ball Bundle
The included Mirror Ball Bundle adds an awesome visual effect to the sensory room. To stimulate the visual senses, the mirror ball rotates to create hundreds of mirrored reflections around the room. The pinspot comes with four colored lenses allowing you to choose the color to set the mood within the room.
And finally, Music!
No calming sensory room is complete without music. Our package includes a basic sound system and five calming CDs. However, it's always a great idea to have additional music options on hand to help users feel relaxed and comfortable in their new sensory environment.
The Calming Sensory Room Package was developed with your children and their sensory needs in mind. This package is jam-packed with equipment designed to create the best sensory experience for your child, but please be aware that all of our equipment is meant for supervised activity only.
For questions regarding the Calming Sensory Room Package or any of our other products, please contact us.