Calming, Superactive, or IRiS? That is the question. Let us help you decide and guide you in choosing the right environmental control experience in a multisensory room. When you enter a multisensory room you will notice an array of colors, lights, sounds, and textures. Our Calming equipment is designed for interaction and by nature is very soothing and relaxing. Yet, did you know you can choose to set your room up with equipment that offers you even more control options: Calming, Superactive, or IRiS?
All three options can be used to create the most awesome multisensory room imaginable catered to individual needs. Let's take a look at the differences between the sensory room equipment.
Choose Calming Multisensory Equipment to Soothe and Relax
Experia USA's Calming range of products is designed to calm and relax individuals in certain settings. Simply plug them in and enjoy the lighting as each calming product slowly cycles through a rainbow of colors! You can use calming sensory equipment for those environments where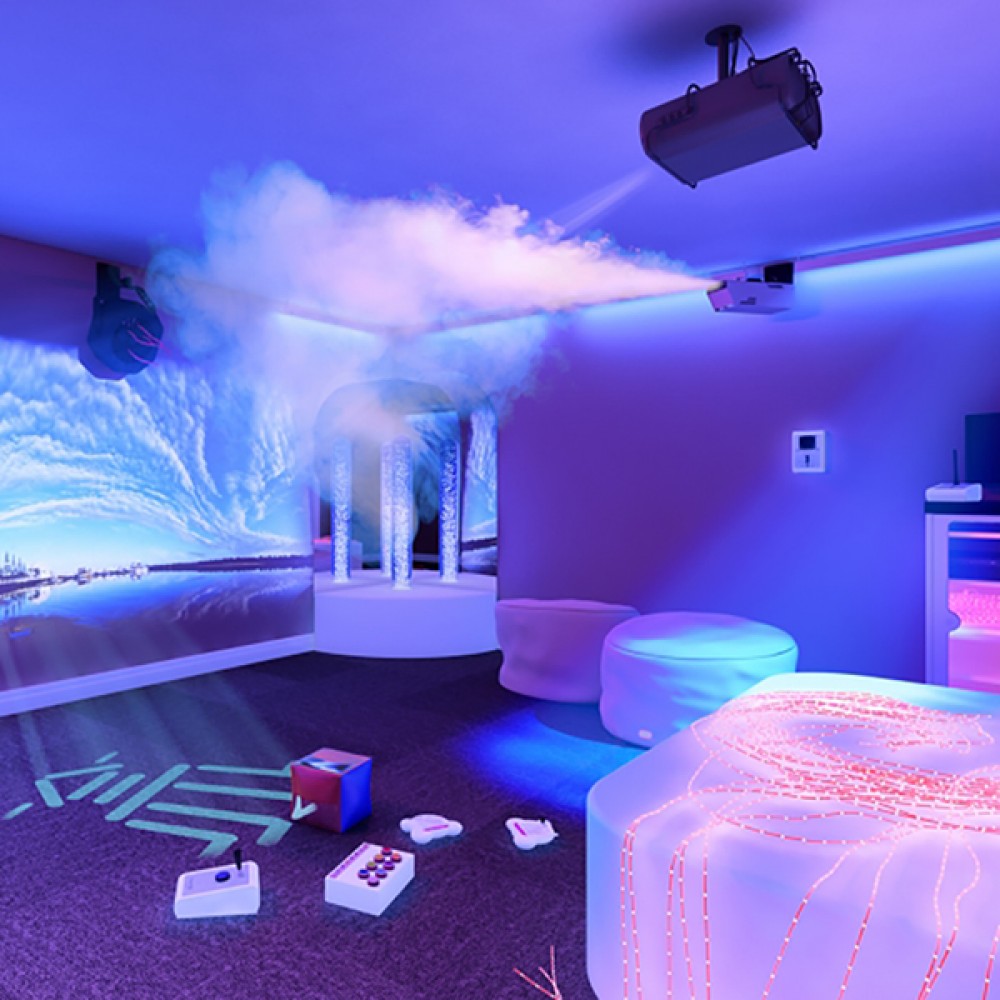 interaction is not necessarily a requirement but calming and relaxation is needed. This can be appropriate in cases where behavioral modification or anxiety reduction is the goal. Calming equipment can also be a great fit for a waiting room area. You can choose from calming bubble tubes, fiber optics, infinity tunnels and many others in our calming line.
Superactive Multisensory Equipment is Ideal for Interaction
The Superactive range of products allows the user a wonderful level of control over their environment, perfect when designing a sensory room. All Superactive products can be controlled with a standard 8 color wireless controller or the wireless Maze Controller! The standard 8 color wireless controller is included with all our Superactive products unless otherwise specified, or you can order both controllers while adding your selection to the shopping cart. By having a wireless controller, those who need control over their environment will have it. This would be an excellent choice to offer sensory activities for Alzheimer's patients, those with sensory processing disorder, or someone with low response levels needing to learn cause and effect. Check out the Superactive LED Bubble Wall, Superactive LED Fiber Optic Bundle or Superactive LED Star Panel.
IRiS May Be The Best Multisensory Room Assistant
An IRiS multisensory room experience is ideal for individuals who need to control multiple pieces of equipment from a single wireless switch. This may be ideal for children with Autism or those with a mild cognitive impairment who can benefit from a higher level of interaction. IRiS Wireless Sensory Products are exclusive to Experia allowing full control of your sensory room using Talkers (switches or controllers like the Color Selector, Qube, or Balance Beam) and Listeners (like bubble tubes, fiber optics, or bubble walls). An IRiS room can provide the most flexibility in the level of engagement you need for your facility or user.
Providing environmental control that caters to the facility or individuals using the multisensory room can allow you to evaluate, adjust, and slowly engage a higher level of interaction as may be indicated. A multisensory expert is advisable to help you not only provide the best tools, but to enjoy your multisensory environment at its best. If you're thinking about designing a sensory room, our sensory equipment provides the perfect solution.